Raman Laser
Violet 375 nm
Violet 405 nm
Blue 445 nm
Blue 457 nm
Blue 473 nm
Blue 488 nm
523/526/543 nm
Green 532 nm
Yellow 556 nm
Yellow 561 nm
Yellow 589 nm
Yellow 593 nm
Red 635 nm
Red 639 nm
Red 660 nm
Red 671 nm
Red 690 nm
705 nm
808 nm
830 nm
852 nm
905/915 nm
940 nm
1064 nm

We provide 375 nm laser, 375nm laser, 375 nm laser,

375nm laser, OEM lasers, violet laser, violet laser modules, OEM violet laser, OEM violet laser modules, OEM lasers, OEM laser, 375 nm violet laser, 375nm violet laser.
Key Features:

Violet Wavelength

CW operation

Low Optical Noise

Remote Control (Optional)

ESD Protection

TTL Modulation (Optional)

Single Mode & Multi Mode Fiber Coupling

Temperature Stabilized

Applications:

Bio-Medical Instrument

Flow Cytometry

DNA Sequence

Scientific Research

Photo Finishing

Computer to Plate (CtP)

The FreeBeamTM375 Violet Laser Module is a highly integrated violet laser module with laser optics and electronics in a single package. It features fiber coupling option, very low optical noise and up to 100 KHz TTL modulation. Laser output power can be remotely controlled through electrical cable connected to the back panel of the package. Lower laser temperature setting can improve laser diode operational lifetime. The unique designed electrical driver enable this Laser Module has the lowest power consumptions compare to the similar product in the industry.

The FreeBeamTM375 Violet Laser Module came with two different packages for you to choose from. Tube style part number start with FBT, box style start with FBB. FBB can allow you to remotely control Laser output power through electrical cable connect to the back panel of the package, while FBT can allow you to control optical power locally through a potential meter on the back panel of the laser tube.

The FreeBeamTM375 Violet Laser Module is a Class III b laser product.
Technical Specifications

Wavelength Range

375 nm ± 5nm

Laser Output Power

6mW to 180mW

Optical Noise (RMS)

0.3%

Laser Output Power Stability

2%

Laser Output Polarization Ratio

100:1

Laser Beam Diameter

2.6X1.3mm

Beam Divergence

0.3X0.6mrad

Transverse Mode

TEM00

Beam Point Stability (box package)

<10urad/ºC

Warm up Time

2 minutes

Operational Temperature Range

0°C ~ 40ºC

Laser Diode Life Time (MTBF)

3000hrs

Mechanical Dimensions

Box Style Package

100mm(L)X44(W)mmX38.5mm(W)

Tube Style Package

f40mmX116.3mm
Product Map
| | | | | | | | |
| --- | --- | --- | --- | --- | --- | --- | --- |
| Output Power Level(mW) | 6 | 10 | 20 | 70 | 100 | 130 | 180 |
| Free Space TEM00 Mode | | | √ | √ | | | |
| Free Space Multi Transverse Mode | | | | | | | √ |
| Single Mode Fiber Coupling | √ | | √ | | | | |
| 50um Multi Mode Fiber coupling | | √ | | √ | | | |
| 100um Multi Mode Fiber coupling | | √ | | | √ | | |
| 200um Multi Mode Fiber coupling | | | √ | | | √ | |
| 400um Multi Mode Fiber coupling | | | √ | | | √ | |
Ordering Information
| | | | | | | | | | | | |
| --- | --- | --- | --- | --- | --- | --- | --- | --- | --- | --- | --- |
| FXX | - | 375 | - | 20 | - | XXX | - | XX | - | X | X |
| Package | | Wavelength | | Power(mW) | | Fiber Type | | Connector Type | | Modulation | CDRH |
| | |
| --- | --- |
| Package | |
| FBT | Free Space Tube Style Laser Module |
| FBB | Free Space Box Style Laser Module |
| FC | Fiber Coupled Laser Module (box style package only) |
| Fiber Type | |
| MM1 | Multi Mode 50um Core Fiber |
| MM2 | Multi Mode 100um Core Fiber |
| MM3 | Multi Mode 200um Core Fiber |
| MM4 | Multi Mode 400um Core Fiber |
| SM | Single Mode Fiber |
| PM | Polarization Maintained Fiber |
| Free Space | FS |
| Connector Type | |
| SMA | SMA Connector |
| PC | FC/PC Connector |
| APC | FC/APC Connector |
| Free Space | FS |
| Modulation | |
| 0 | DC Operation |
Free Space Mechanical Dimension( BOX )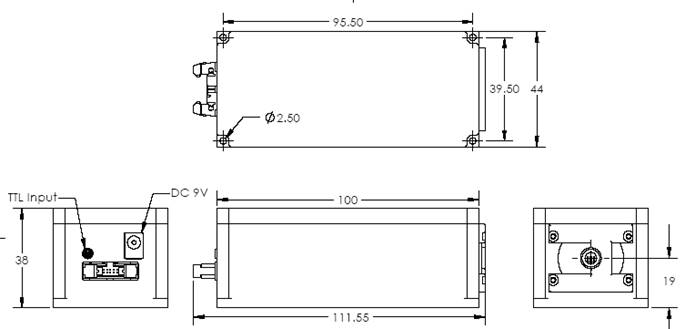 Free Space Mechanical Dimension( Tube )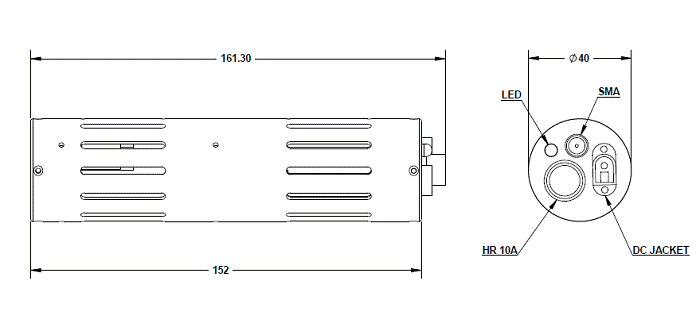 Fiber Coupled Mechanical Dimension